Volunteering
Help us to transform the lives of older people across York
Do you want to help vulnerable and socially isolated people to live happier, healthier lives through participation in music? Are you an enthusiastic and passionate person looking for a chance to make a difference? Then you might be interested in one of our volunteer roles. You don't need any musical training, just an enthusiasm for, and commitment to our charity's work.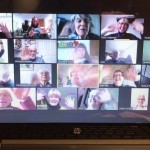 "Volunteering with Musical Connections brings me a sense of purpose, a community to which I feel I belong, and a smile to my face."


"I really feel that my contribution, and what this charity provides, makes a real difference to the community it touches. What we do is so worthwhile and it changes lives."
We have the following volunteer opportunities available: 


Social Media Support
Help us to promote, develop and maintain the online presence of the charity in order to maximise our impact and promote ourselves as widely as possible to the local community. 
Telephone Befriender
Help us to provide telephone support, improve emotional and mental wellbeing and build a relationship with some of our most isolated members. 
Fundraiser
Help us to support and raise funds for the charity to ensure that we can continue to provide our music groups and sessions to some of the most isolated and older people in the community. 
Music Buddy
Share your passion for music, build a relationship with and help support our members via telephone (during the pandemic) and during their group sessions in the future. 


"I have absolutely loved my time volunteering for Musical Connections. I had very limited experience of sharing music with the elderly. I have loved seeing how it brings the whole room alive, and not only does it leave the residents smiling, I leave with a smile."


Benefits of working with us
When you volunteer with Musical Connections, you will be helping some of York's most isolated people to share music in a relaxed and enjoyable setting. But that's not all: you will receive a basic induction and some simple training, build upon existing skills and receive a free DBS check.
COVID-19 Update
We're so pleased that our groups are up and running again, and are now looking for enthusiastic volunteers more than ever! If you feel you'd like to be involved in one of our groups in a volunteering capacity - please don't hesitate to contact us.
Volunteer Mileage and Travel Expenses Policy