Working across the generations
Musical Connections has many links across the city with local schools, universities and colleges. Feedback from both our participants and project partners has shown that our intergenerational work has great benefits for all those who experience it. Occasionally, the younger children will perform to our groups, but more often than not, group members work together with the children, using the music to break down any sort of generational barriers.
We work with nursery children up to university students, and every session is tailored to the ages taking part. We offer regular placements for students studying related university degrees such as MA Community Music, and students often enjoy having the chance to organise aspects of our Big Sings.
Our primary sessions can fit in with the school curriculum, with themes ranging from Hawaii to friendship, the rainforest to Scotland. Sometimes, schools suggest a subject that fits with their topic work for the term, but normally, our musicians take the lead in planning and delivery, so as to minimise workload for school staff. This also means that teachers do not have to be musicians themselves for their classes to benefit.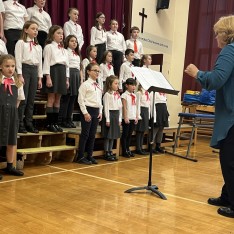 "Musical Connections offers an opportunity for us, as a school, to make a positive contribution to the local community. We can harness links with the curriculum – in music, history, performance skills and social development. It also helps develop the children into well rounded, caring, considerate, community-oriented individuals."
James Rourke, Former Headteacher, Rufforth Primary School
"Fiona has invited my classes to participate in many intergenerational projects...and this has allowed me to witness directly the profoundly positive difference the programme makes by using creative interaction to generate a sense of community and belonging, including numerous opportunities for older people to share in music- and arts-based activity with children and young people. As a schoolteacher, I believe this programme teaches children to value and respect older generations"
Debbie Feehan, Deputy Head, St. Aelred's Primary school.
"I have learnt that, no matter what age you are, you can always have fun"
"I thought we would have nothing in common, but I was REALLY surprised - everyone was really friendly and lively"
"You can share a laugh....I'm more confident talking to older people now"
Children from Ralph Butterfield School.