Our ambassadors
As a small charity, we're reliant on our ambassadors to raise awareness and funds. They are committed to our cause and play a vital role in representing Musical Connections, promoting our work as widely as possible and encouraging more people to support us. We are incredibly grateful for their support. 
Laura Castle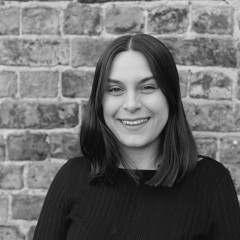 Originally from Bradford, Laura graduated with a degree in BA Theatre and MA Applied Theatre, and is now a radio presenter on the York Mix breakfast show. She has been hugely supportive in raising awareness of Musical Connections within the local community, and was key in helping us to connect with some of our most isolated members via the radio during the pandemic. 
"What the team do at Musical Connections is amazing. Music is universal and to be able to bring people together through this medium and create true happiness and positivity are just some of the many reasons I feel so privileged to be an ambassador. I've been lucky enough to witness first hand the joy that the sessions bring to the lives of those involved, and the more people that can hear about and get on board with the charity, the better."
Karen Burland - Clark
Karen is a Professor of Applied Music Psychology in the School of Music at the University of Leeds, and co-Director of the Music for Healthy Lives Research and Practice Network. She conducts research into musical participation, and is particularly working to understand the ways in which musical engagement interacts with our identities and wellbeing. 
"The work of Musical Connections is so important for bringing people together, and their creative approaches to building and supporting their community are inspirational. They celebrate successes, both musical and non-musical, connect with global initiatives, and utilise intergenerational projects to foster a clear sense of belonging and friendship for everyone involved."